Class Room

The Class rooms are airy, well ventilated and well furnished with latest designed furniture providedfor the students. The classroom atmosphere is congenial and democratic. Original thinking is encouraged. Modern and latest techniques are used in the classrooms. Innovative methods of teaching are constantly being used to make teaching more meaningful and interesting. The students are frequently tested and the results are used as feedback to further improve testing. Comprehensive records of student's progress are maintained.
Seminar Hall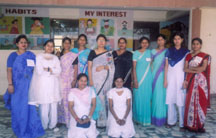 It has state of art facilities with OHP's and LCD for conducting various programmes such as seminars, workshops, presentations, conferences, guest lectures and talks etc.
Computer Hall
Computer Education is provided to all the students which is an asset to ECCE and PTT. The computer lab is well equipped with latest Pentium with printers, Multimedia facility is also available.
Library
The Institute has a fully automated library. Sufficient number of copies are purchased of all the text books and there is book bank facility also. The library subscribes to periodicals and journals also.