Welcome to Sai Institute for Girls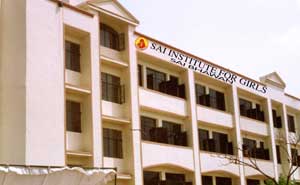 Sai Institute for Girls, Sai Bhawan, is run by Sai Memorial Education Society under the efficient guidance of renowned educationists managing different Schools and Institutes in Delhi for the last two decades. It is recognized by NCTE (Statutory Body HRD Ministry), Govt. Of India.

Affiliatted to SCERT (State Council of Educational Research and Training) Varun Marg. Defence Colony, New Delhi - 110024 Govt. of India.

Courses Offered:
D.EL.ED (D.EL.ED & DPSE (NTT))
Duration of Programmes: 2 Years
Eligibility Conditions: XII Class passed 50 % marks as per eligibility conditions of SCERT, Govt. of Delhi.
Recognition :
Institute is recognized by National Council of Teacher Education, (a statutory body HRD Ministry, Govt. of India. ( D.EL.ED course recognition Vide order no. F-NRC/NCTE/F-3/DH-266/2004/280 DATED 13.04.04 AND F-NRC/NCTE/F-7/DH-333/2008/39843 DATED 27.02.08 and ECCE COURSE F-NRC/NCTE/F-3/DH-266/2004/252 DATED 13.04.04 )
No. of Seats
- D.EL.ED - 100
- DPSE 50 seats in each course.
Procedure of Admission
Admission in the above mentioned courses are done by SCERT strictly on the basis of Merit.